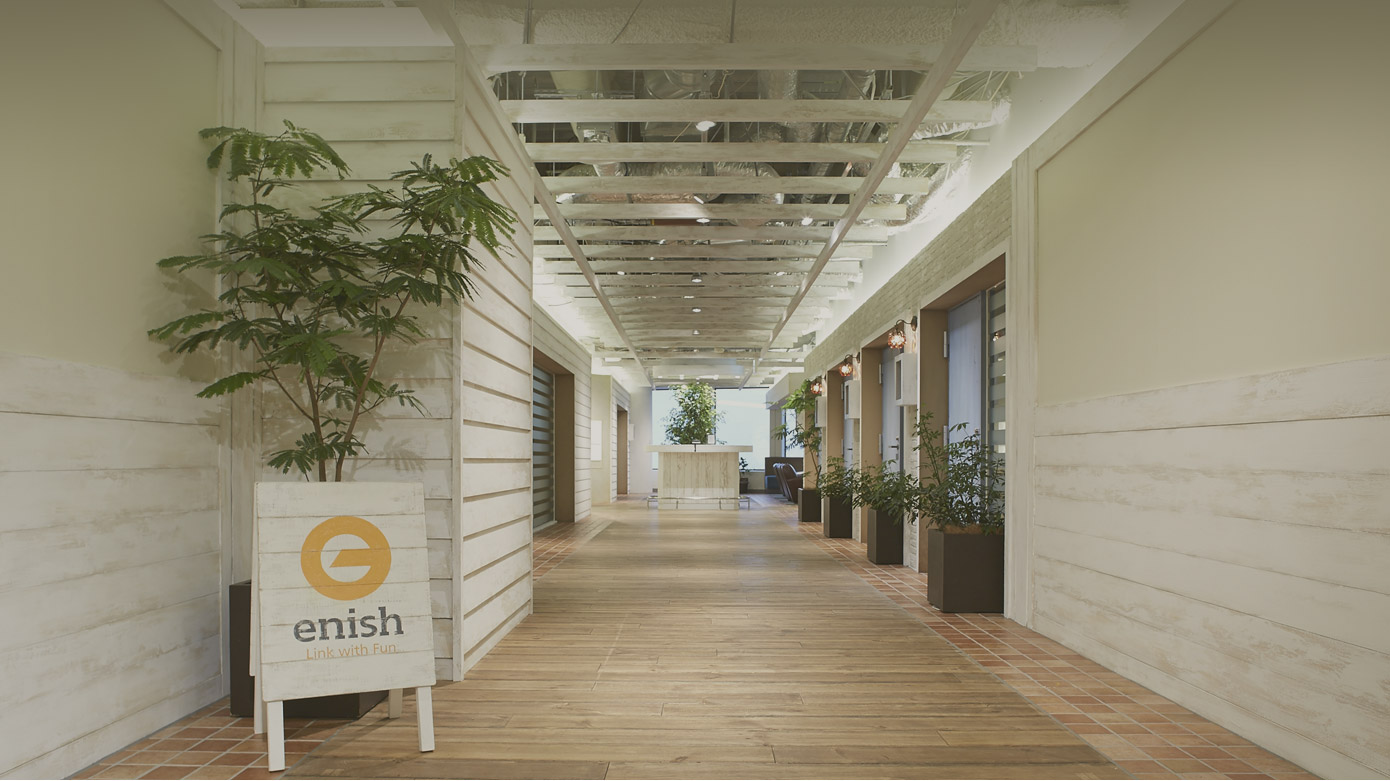 Latest entry in the "My Happy Restaurant" series!

My Happy Restaurant 3DX

"My Happy Restaurant 3DX is the latest game in the "My Happy Restaurant series" enjoyed by more than 3 million users. It carries over what makes the series great and adds new exciting features.

Featuring more than 500 cooking recipes, constantly updated with new exotic ones from around the world. Decorate the interior of your restaurant freely or change your avatar's hairstyle or apparel to your taste!
Become the cutest chef and create the best restaurant in the world!


Sweetly collaborate with friends in this cute manga RPG battle against a Giant God!

Sennen no Kyoshin

In this collaborative Line type strategy game (Tower Defense), monsters with various personalities move about in a charming way. The rules are so simple that everybody can play! But once the game has begun, you'll find there is a depth to it. Go into battle against the Giant God, with monsters at your sides!

Story
The Giant God has awoken after 1000 years. Is he an enemy of mankind? A messiah? The hero, who has the power to communicate with monsters, leaves on a mysterious adventure, following the Giant God, in order to save the world.

Let's aim to be the best restaurant providing cuisine from all around the world!

My Happy Restaurant 2

This title earned the GREE Platform Award prize for [Simulation Game First Prize] over the last three years, since 2011.

The restaurant management simulation game [My Happy Restaurant 2] has been enjoyed by more than 3 million users for more than 4 years.

Let's go all over the world to buy clothes and manage a fashionable apparel shop.

Garusho☆

The apparel shop management game [Garusho☆] enjoyed by more than 2.5 million people.

The dream job ladies had longed for has become a computer game in which products are bought in the world's most stylish cities, including Paris, Milano, Tokyo, Los Angeles, etc. then sold in the store.


Bring about a miracle with the new card battle system!

DRAGON TACTICS

This series [DRAGON TACTICS] is the definitive edition of the card battle RPG (Role Playing Game)

This regal story rendered with outstanding graphics and illustrations invites you to enter the world of this stunning game

A high strategy battle system (MDS: Mebius Duel System, a new card system allocating cards to 9 rotating cells/ 3 x 3) has been adopted.

Players aims to become the most powerful knights by taking advantage of various skills

Let's save the world from The King of Darkness with the help of reliable friends!

Pocket Dungeon 2

The Monster Driver, a special power only given to selected individuals….
You are the lead character holding the Monster Driver. Seal off the spirit of natural world and start on a journey to defeat [The King of Darkness] whose aim is to disrupt the global order.

Breed and cultivate monsters, and make up your own powerful monster team!
This is a fantasy story woven through the cooperation of colleagues and over 1000 monsters.
That is [Pocket Dungeon 2]!

[OTOKOJUKU], the successful comics, became a card battle game! Let's find out who is a man among men!

Sakigake!! Otokojyuku

[OTOKOJYUKU] refers to the hit comics serialized in WEEKLY JUMP, in which an elite school aims to raise real men through strict Spartan Education in [OTOKOJYUKU] .
The series has exceeded 27 million copies in print and the comic [OTOKOJYUKU] was also adapted as TV cartoon, and a live-action film was part [OTOKOJYUKU -- The Union's Struggle Part --] for the iOS application.

This card battle game maintains the original comic's way of expressing the world through fights with various competitors along with popular OTOKOJYUKU characters including Heihachi Edajima, Momotaro Tsurugi, Genji Togashi, Omito Date, etc. It earned the No.1 ranking for App Store Free Application.


Makeover into dream-model! Take pictures with a wide variety of coordinated looks!

Platinum Girl

[Platinum Girl] is the dreamy avatar fashion changing game, fulfilling every girl's wish of owning pretty clothes, enjoying new looks everyday, and being looked at by everyone.
Acting as the model, appear in magazine photo shoots at various locations, with various styling concepts.


Intense cooking battle with legendary Iron Chefs!

Iron Chef

[Iron Chef ~ New Challengers ~] following the popular cooking battle broadcast program which was previously on the air, on theFuji News Network, from October 1993 through September 1999 in Japan.

Three familiar iron chefs, Rokusaburo Michiba, Hiroyuki Sakai and Kenichi Chin, show up and proceed according to the broadcast program.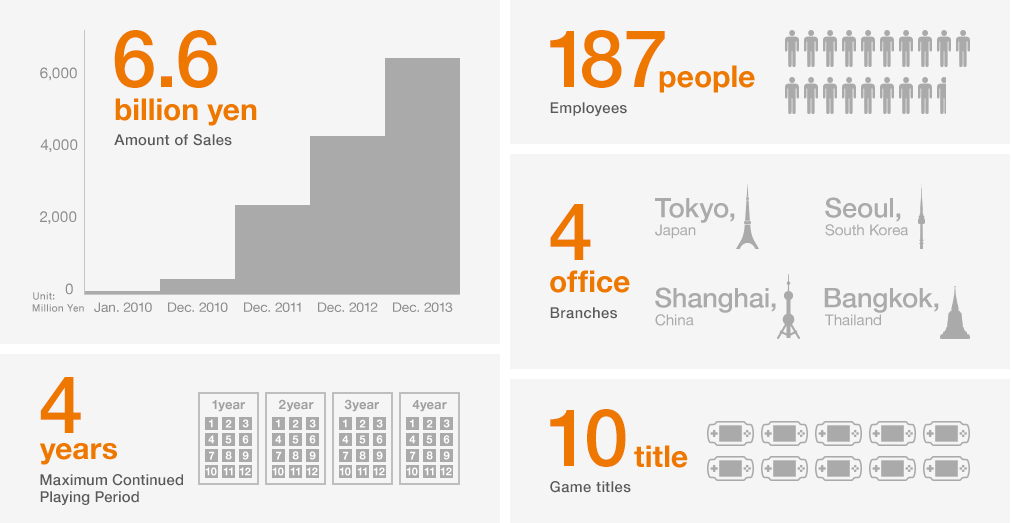 Company Data
History
Board
Members
Overseas
Branches
Main Business
Partners
Access
Company Name

enish,Inc.
Founded

February 24, 2009
Capital Fund

¥864.938 Million (As of December 31, 2013)
Stock Listing Market

The 1st Section of Tokyo Stock Exchange (3667)
Description of Business

Planning, Development and Management of Social Application Game
Company History
Product History
Company
History
Apr. 2014

Established Enish China Limited.
Dec. 2013

Moved our head office to Roppongi Hills Mori Tower 39F
Dec. 2013

Changed our stock market listing to the 1st section from Mothers of the Tokyo Stock Exchange
Nov. 2013

Established enish Korea, inc., the first overseas branch
Mar. 2013

Launched our satellite office due to business expansion
Jan. 2013

Head-count over 100
Dec. 2012

Became listed on Mothers of the Tokyo Stock Market
Sept. 2012

Changed our company name from Synphonie to enish
Jul. 2011

Head-count over 50
Apr. 2011

Moved our head office to Hiroo, Shibuya-ku, Tokyo
Jul.2010

Head-count over 10
Jun. 2010

Announced capital and business alliance with GREE, Inc.
Feb. 2009

Establishement of company
Product
History
May 2014

Launched My Happy Restaurant 3
May 2013

Launched the card battle game OTOKOJYUKU, (playing with the characters from the original comics)
Oct. 2012

Launch the card battle game PROJECT ARMS, adapted from the successful comics ARMS (service
terminated Sept. 2013)
Jul. 2012

Launched the full-scale fantasy battle card game DRAGON TACTICS
May 2012

Launched the virtual hostess lady game Love Kyaba
Jan. 2012

Launched Pocket Dungeon 2
Dec. 2011

Launched the school fantasy battle card game "Ikinari! Maho Gakuen" (service terminated Aug. 2012)
Dec. 2011

Launched avatar-change-cloth fashion game Platinum Girl
Aug. 2011

Changed the game title from GaruKore to Garusho☆
Jul. 2011

Launched the social game Iron Chef for GREE, collaborating with Fuji TV
Jun. 2011

Launched the quest-type role-playing game Pocket Dungeon
Nov. 2010

Launched fashion boutique simulation game GaruKore (present Garusho☆)
Jun. 2010

Launched My Happy Restaurant 2
Jun. 2010

Launched the simulation game Primitiv Cro-Magnon (service terminated Oct. 2012)
Mar. 2010

Launched the insect collection action adventure game MushiKago (service terminated Oct. 2012)
Oct. 2009

Launched the mobilel game My Happy Restaurant, location-based with real restaurants in Japan.
Board Director

Board Director CEO Kohei Antoku
Board Director Yoshiyuki Kumon
Outside Board Director Shumpei Kumon
Auditor

Full-Time Auditor Naoyuki Shimura
Auditor Kan Sato
Auditor Shinichiro Yoshiba
China Office
Company Name

enish China Limited
Address

Longchang Road,Yangpu District,Shanghai,No.619 South District 8


Korea Office
Company Name

enish Korea, Inc.
Address

KFAS Building 678-39,7FYeoksam-dong,Gangnam-gu,Seoul, Korea


Bangkok Office
Company Name

enish(Thailand)Co.,Ltd
Address

54BB Building, 14th Floor, Room 1302, Sukhumvit 21 Road,
Klongtoey-Nua,Wattana, Bangkok, 10110, Thailand


NHN PlayArt Corp.
CyberAgent, Inc.
NTT DOCOMO, Inc.
DeNA Co., Ltd.
MTI Ltd.
mixi, Inc.
COLOPL, Inc.
GREE, Inc.
Access

Tokyo Metro Hibiya line, Roppongi station
(H04), 0 minute walk from 1C exit

Toei subway Oedo line, Roppongi station(E23), 4 minutes walk from exit 3
Address

39th floor Roppongi Hills Mori tower 6-10-1
Roppongi Minato-ku, Tokyo, 106-6139, Japan